MEET OUR TEACHERS
Our university trained team of highly qualified and dedicated music teachers excel both in the field of teaching as well as performance. Below are just a few of the many teachers offering music lessons in the Conejo Valley and San Fernando Valley. Whether you are looking for beginner music lessons for your kids, or are an adult wanting to improve your skills, our instructors are ready to help you now!
We are serious about high quality instruction and bringing music to all lives.  Our teachers hold at least one university degree in music.  In addition, our instructors are carefully selected and we believe we have assembled the very best music teachers our community has to offer.
Each one of our Music School To Go teachers on staff receive thorough background checks and go through an extensive interview process. The safety and security of our students is very important to us — and it should be important to you.
Jason Sulkin, Founder of Music School To Go
Sonoma State University, B.A. in Music Performance
Born in Tarzana and raised in the Conejo Valley, Jason started playing the guitar at the age of 12. He continued to play guitar throughout high school and it wasn't long before he developed a strong repertoire and a love for all styles of music. Jason went on to further his studies at Sonoma State University where he studied under the tutelage of Mel Graves focusing on jazz theory and improvisation and jazz composition. During his music training, he was a member of the highly acclaimed Sonoma State University Jazz Ensemble.  He also studied extensively with renowned San Francisco Bay Area guitarists Steve Sage and Randy Vincent, two great guitar players and mentors who he credits for bringing out the discipline and skills he would need for a lifetime of music achievements and expression. Jason is a professional musician, educator, performer and recording guitarist. He works and performs with a variety of  musicians, jazz groups and ensembles in Southern California and continues to indulge his passion for the guitar.
UC Davis, B.A. in Music and Vocal Performance
Amanda's love of music began at the age of five when she started playing piano.  Her love of music grew even stronger when she began playing flute in her elementary school band. Amanda has a love for musical theater and was featured in choral works such as The Road Home, Amazin' Grace and Ives' Symphony 4. She has sung with the Chorus and San Francisco Opera Adler Fellow in the UC Davis production of "Carmen," as well as Purcell's "Dido and Aeneas," Le Nozze di Figaro, Die Fledermaus, and The Magic Flute.  Amanda performs in Musical Theater and has played a wide variety of roles including The Wizard of Oz, Sweet Charity and West Side Story where she played the role of Maria.
Berklee College of Music, B.A in Professional Music
Born in Morristown, New Jersey and raised in Boston, Bill began his musical journey on guitar at age 11. With one year of lessons under his belt, he started his first band and has not looked back since. While engaging in his studies, Bill worked as an audio engineer and session guitarist in both Boston and Los Angeles. After graduating from Berklee Magna Cum Laude, Bill moved to Los Angeles to continue his career as a session guitarist and audio engineer. Currently Bill works throughout Greater Los Angeles in both live and studio settings.  He believes playing the guitar should be enjoyable and rewarding, and he hopes his students feel as passionate about playing their instrument as he does!
Berklee College of Music, B.A. in Songwriting and Music Business Management
Born in the suburbs of Boston, Will began his musical journey at the age of 4, when his family bought their first piano. He really took to the instrument, becoming very passionate about not only learning the piano, but using music as a means of expression. Playing in many styles, but focusing specifically on Pop and Rock, Will transferred his education over to the Guitar at the age of 14. At this point, he concentrated not only on learning the guitar, but learning how to write songs. Will  attended Berklee College of Music in Boston, MA where he furthered his musical knowledge, focusing on Songwriting and Music Business Management.  He teaches piano, guitar and songwriting with up-and-coming artists.  He also writes music for TV, Movies and Documentaries. Will enjoys sharing his passion for music with new and current students, and helping them blossom into the musicians they want to become.
Berklee College of Music, B.A. in Writing and Production
Taylor is a drummer, composer and producer from Los Angeles. He began playing drums at the age of 7 and was exposed to a wide variety of music from Jimi Hendrix to Miles Davis. Taylor holds a Bachelors Degree in Contemporary Writing and Production from Berklee College of Music.
Currently, Taylor is the drummer for the Karen Lovely Band and does freelance work in the LA area. Notable venues and shows Taylor has played include The Hollywood Bowl, Dorothy Chandler Pavilion, Monterey Jazz Festival and the Congac Blues Festival.
School of Visual Arts NYC, B.A. in Music Performance
Paulie has been a professional singer and guitar player for nearly 20 years. He has played arenas, toured the USA and even starred in his own TV show! More importantly, he is an educator who has been teaching guitar and voice professionally for more than 15 years. He has worked with children as young as 3 years old, as well as adults and even celebrities. Michael J. Fox was one of his guitar students.
Paulie's philosophy is that once a student is engaged, they can learn anything. He has a dynamic personality coupled with an academic mind.  His focus is to always cater lessons to each individual student so that they are engaged mentally and emotionally. In each of his lessons, students learn the rudiments of music while applying them to pop/rock songs. He believes that you need to balance the academics with something fun that will draw the student in and keep them motivated.
Humboldt State University
Ana was raised in a musical family. Her love of music came from her mother who was a violinist.  Ana started playing violin at age 7.  She had private lessons throughout her childhood and was mentored by Susanna Han, a student of Shinichi Suzuki. Throughout her musical career, Ana has enjoyed playing Bach Partitas and orchestral music concertos, as well as in quartets and small ensembles. Ana began teaching private lessons to her Mariachi students at the age of 22 and since then has continued to share her knowledge and experience with others. She has worked with students of all ages and levels and is very proud to continue to inspire her students and watch them grow into aspiring young musicians.
Cal State University Northridge, B. A. in Music
Born in NYC and raised in the suburbs of Los Angeles, Elyse began her musical journey singing from her crib. Her family was given their first piano and she banged out Broadway and Pop melodies as a young child. Elyse's parents are both musical; her father having gone to the High School of Music & Arts in NYC. Her Mother is an English teacher and Elyse combined writing and music to find her true form of expression through songwriting.
Playing in many styles, but focusing specifically on Pop and Rock, Elyse began playing guitar at age 18 and hasn't looked back since. After graduating, Elyse has been making music with her band, Elyse + the Aftermath, teaching, co-writing songs with other up-and-coming artists, as well as writing music for TV and Movies.  Elyse loves to share her passion for music with new and current students, and lend her knowledge to the new generation of musical expressionists.
Ventura College, Applied Music
A Ventura County native, Jesse has always had a love for all genres of music.  He picked up his first guitar in high school and excelled quickly and hasn't looked back since.  Jesse immersed himself in the Applied Music Program at Ventura College where he studied classical guitar performance with Carlos Gonzales, Master Guitarist. From the beginning, Jesse was inspired by the learning process and knew he had a lot to offer as a teacher and educator.  While  attending VC, Jesse began teaching music as well as performing regularly throughout Ventura County.  Jesse has taught a variety of instruments to students from age 6 to 86. He currently divides his time between performing and providing private lessons on acoustic and electric guitar.  He teaches students what they want to learn, including classical to rock guitar and everything in between.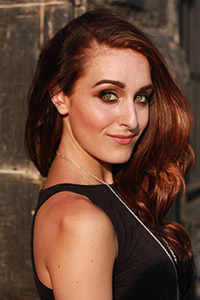 Berklee College of Music, B.M. in Professional Music: performance, music business, songwriting, recording.  Baldwin-Wallace Conservatory of Music
With a rock and roll keyboardist for a dad and a classical ballerina for a mom, Kailey was born into the arts.  At age three, Kailey jammed with her father in what became her first song titled "Little John." Kailey strives to bring a new musical voice to the industry with her exuberant stage presence and unique playing style. She is described as having an exciting and intense energy on stage that captures audiences with her talent and vivacious personality.
Her extensive classical training led Kailey to discover a passion that bridges technical elements to contemporary music. Kailey has the rare ability to bring an artist's vision to life, while integrating her own individual style. In addition, Kailey can contribute with her ability to write, collaborate string arrangements, improvise and sing background vocals in live performances and recording sessions. Kailey's live performance highlights are comprised of playing with artists such as Rod Stewart, Annie Lennox, Willie Nelson, Lalah Hathaway, Sharlotte Gibson, Jetro da Silva, Mario Castro Quintet w/ Strings feat. Dave Liebman, Nikolas Metaxas, Art Decade, Jesse Denaro, Animal Flag, Berklee Contemporary World Strings under direction of Eugene Friesen, and the Whitney Houston Tribute show. Her collegiate education includes the Baldwin-Wallace Conservatory of Music from 2008-2010 as a Violin Performance major and the Berklee College of Music, where she graduated with a B.M. in Professional Music in May 2013.
Kailey is currently working on her debut album.  In addition, she is committed to teaching violin, piano and music to inspire and empower anyone and everyone to step into their greatness and fulfill their dreams and goals.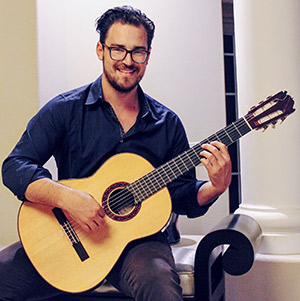 University of Southern California, B.M. in Classical Guitar
Andrew is a passionate, multifaceted musician from Calabasas, CA. His mastery of the guitar spreads across multiple styles of music, focusing on classical and pop. Andrew has quickly built a career as a performing artist, guitarist, and composer. As a teenager, he was already in high demand with his band, Mysterious Bob. They were even invited to perform on the Sharon Osbourne Show. To date, Andrew's performance experience is vast and includes performing concerts at Dodger Stadium, Universal City Walk, Whisky A Go-Go, Roxy Theatre and other notable venues.
While earning his Bachelors of Music in Classical Guitar Performance from the University of Southern California Magna Cum Laude, Andrew studied with and performed for some of the top classical guitarists in the world, including Pepe Romero, Scott Tennant, Andrew York, William Kanengiser, and Evan Hirschelman.
In addition to his studies and band experience, Andrew has taught guitar for many years, helping a wide variety of students achieve their musical goals. He has a true passion for teaching and loves to guide students of all ages in their journey to learn the instrument.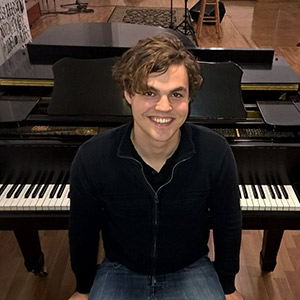 Wyndham Academy of Music, Piano Pedagogy and Composition
Shane is an accomplished pianist and composer.  He began studying music at age 4, learning both the violin and piano. During his musical education, Shane performed frequently at various venues. Some of the venues included wineries, hotels, private gatherings, concert halls and several competitions.
Shane received a Certification in Piano Pedagogy and Composition from the Wyndham Academy of Music. After teaching in Oregon, he moved to Los Angeles to further his career in teaching and film scoring. Since then, he has taught at three schools with a wide variety of students and has had his compositions featured on Lifetime as well as several commercials.
While primarily schooled in classical music, Shane is also adept at teaching rock, blues, pop, jazz and ragtime. He believes that the method should always fit the student and remain relevant to their interests. His teaching method is to instill a love of music from the very first lesson so that music will never become a frustrating obligation, and always fulfilling source of joy and continuous exploration.
Piano/Keys, Voice, Songwriting, Music Composition
New England Conservatory of Music, B.M. Music Composition
Carla has been teaching and performing for more than 27 years.   She holds a B.M. in Music Composition from the New England Conservatory of Music.  Carla is just 8 credits shy of a Masters Degree in Music Education.
Carla has performed on the Chapman Stick with The Blue Man Group at the Astor Place Theater in NYC.  She has also toured Europe as a background singer with many artists and performed with a girl group revival show called The Party Dolls.  In addition, she has performed  with many corporate bands in the NYC area.  Most recently she is performing the part of Christine McVie in a Fleetwood Mac Tribute named "Mirage."
Carla has a passion for teaching.  For more than 27 years in between touring and performing, she has always had a large studio of students.  She believes that each student is different and learns at their own pace.  If a student is interested in the music they are learning, they will be inspired to practice harder and thrive at their instrument.  Her philosophy is that any song that holds a student's attention is one we can learn from, whether it's chords & basic theory from a pop song or Jazz Standard, to song structure from a ballad, to phrasing and poetry from a rap song or vocal pedagogy from a light Operatic piece! Music has something for everyone.
The Master's University, B.M. in Music Education
Monica's love for music began at age 4 when her dad taught her how to play The Pink Panther Theme on her keyboard.  In the years that followed, Monica enjoyed learning more about piano, guitar, bass, and music theory.  Her passion for teaching music started at age 11, when she decided to start teaching neighborhood kids weekly piano lessons. Since then, she has never stopped teaching.  Years of hard work culminated in her earning a Bachelor of Music in Music Education in 2014.  She enjoys making musical goals with her students and guiding them to reach those goals.  Her greatest desire as a music teacher is that each of her students will enjoy the music they create, and that they develop a profound sense of accomplishment.
Musicians Institute and Berklee School of Music
Born and raised in Camarillo, Natalie found her passion in music and performing arts at the young age of 2. She began with flute at 6, singing at 7 and piano at 12. She is classically trained by graduates of prestigious music schools such as Julliard, Berklee College of Music and the San Fransisco Music Conservatory. At the age 17, she was awarded the highest Talent Scholarship available from Musicians Institute where she also earned her Certificate from LA's renowned MI. She then followed her trainers footsteps and transferred to the prestigious Berklee College of music where she received another Certificate as a Professional Songwriter. Natalie has been mentored by and/or written with top industry producers and songwriters such as Ron Harris (Credits: Christina Aguilera, Usher) Rizzo Grey (Credits: Chris Brown, Iggy Azalea) Brett McLaughlin (Credits: Black Eyed Peas, Pitbull) and more. She is currently sharing her love and passion for music teaching students of all ages and writing and producing her contemporary pop album.
Cal State University Northridge, B.S.
Growing up between Atlantic City and Las Vegas, Austin developed a love for music at the age of 4, when he began taking singing lessons. Picking up other instruments along the way, he honed his crafts through experience; performing at venues such as the Venetian Casino, the Atlantic City Boardwalk, the Mall of America, the United Palace Theater, the Roxy, the Mint and the House of Blues, as well as several national and international tours. Austin also has an affinity for musical theater and was recently nominated for an Ovation Award for his work in the first Los Angeles production of "Dogfight" at the Hudson Mainstage.
Austin is an accomplished music teacher with more than 6 years of experience teaching multiple instruments and all levels. He has given music lessons to well known actors such as Max Ehrich (Under the Dome, The Young and the Restless), Leah Lewis (Gamer's Guide, Sing It!, Fred 3), Meg DeLacy (The Fosters) and many more. Austin is currently the Music Director at the Rage Performing Arts Complex and has taught music and songwriting at two well-known LA music programs: Hollywood Launch and School of Pop.
Austin's philosophy on teaching has always been student-centric. He believes the approach should always be tailored to the student and the ultimate goal to foster a student's growing passion.
Piano, Voice, Songwriting
Jaki has spent her life pursing the arts. She was first introduced to piano and voice at the age of 10 and quickly developed a passion for music studying everything from classical music to pop/contemporary and more.  Jaki began her professional career teaching private music lessons and building her home studio to write and record her music, including recording vocals and piano for producers all over the world which led to getting signed for the first time in 2013.
With more than five years of professional experience, Jaki feels that her formal training and studies in styles ranging from Classical to Pop has not only assisted with her ability as a Music Teacher and Educator, but has also helped her attain writing and production work for dance and pop artists. In October 2017, her song 'Uh Oh' was placed on the Billboard Dance Chart, and her music can be found on Spotify and other online platforms. Jaki continues to be an active member of the local musical community and maintains a busy schedule teaching private music lessons and writing and recording her music.
The University of Southampton, B.A. Music
Lara was introduced to the violin at the age of three and a half. Throughout her youth, she played in orchestras and string orchestras, including performances at renowned venues such as the Royal Festival Hall in London, England. She participated in Chamber Music Courses, including summer courses with organizations such as Pro Corda.  Lara studied the Suzuki method throughout her early years with violin teacher, Elizabeth Arnott. She took up her secondary instruments of piano and voice by the age of eleven. Going on to earn a Bachelor Degree in Music from The University of Southampton in Southampton, England, her degree spanned performance, composition and the history of music.  Lara has taught at several music schools over the past five years, and has guided both children and adult students in many aspects of their technique and performance, as well as preparation for recitals. She is passionate and driven in guiding each of her students to realize their full potential.
Oklahoma City University, B.M. Vocal Performance
Alex's love for teaching began shortly after receiving his degree in Vocal Performance from Oklahoma City University where he attended on a full tuition scholarship. He served as the St Luke's and Argyle UMC's associate music minister conducting the 60 voiced choir, orchestra and handbell ensemble. After his final concert in Oklahoma where he performed alongside Broadway star, Kelli O'Hara, Alex moved back to Texas to open his voice and piano studio, where he maintained a roster of over 40 students for 10 years. While teaching, Alex was able to continue his passion for performing in musical theater, opera, television and film, and has been featured at the Tony Award-winning Dallas Theater Center.  Based in Los Angeles, Alex believes in the individuality of each student and caters lessons to meet the unique needs of each pupil. He strives to make each person who walks into his studio a well rounded performer, and each lesson he teaches is high energy, focused, and always fun!
Guitar, Piano, Voice, Ukulele
Berklee School of Music, B.M. Songwriting
Rachael
 has been studying music since the age of six. She began with playing the piano, guitar and studying voice. Ultimately continuing these studies at Berklee College of Music, her principal instrument being voice and majoring in songwriting.
Rachael
 has been teaching music to students of all ages for two years and has also her teaching to the guitar as well. She loves to help young musicians achieve their musical goals and figure out their own personal styles.  Rachael is highly proficient in music theory and incorporates it into her lessons, as well as making sure every student is having fun and learning what they truly want to be learning as the student's interest is the most important thing to her.
Apart from teaching, 
Rachael
 is a songwriter and works in the music-publishing world as well. She has been writing for nearly ten years and her passion for making music is one of the most driving forces in her life.  Rachael has competed in and won multiple national songwriting competitions and hopes to help others discover their own personal passion.