Private Music Lessons in Sherman Oaks
With the Best Teachers in Your Home
Are you searching for the best music lessons in Sherman Oaks? Music School To Go teaches piano lessons, guitar, violin, voice and singing, ukulele and drum lessons in Sherman Oaks to kids of all ages and skill levels. Music lessons for kids is our specialty, and we love to teach beginners. Learn to play guitar, piano, voice, violin or drums in the comfort and privacy of your own home. At Music School To Go, we believe music should be fun and enjoyable and we make sure it stays that way. When kids have fun, they learn quickly. Our passionate and inspiring team of teachers are dedicated to providing you with the best possible home music lessons experience. Our goal is to make music education FUN, while still providing a nurturing and structured learning approach that's necessary to achieve results.
Private Music Lessons for Children in Sherman Oaks
We offer instruction in the following instruments including vocal instruction:
Drums
Flute
Clarinet
Saxophone
and More!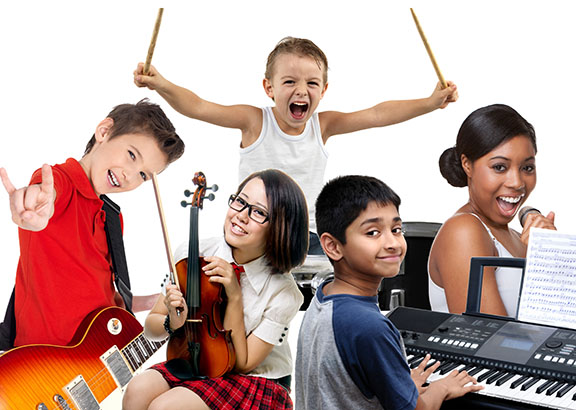 Piano Lessons, Guitar, Violin, Voice and Singing Lessons in Sherman Oaks
We teach piano lessons, guitar lessons, violin and singing lessons in Sherman Oaks. Lessons are offered in 30 minute, 45 minute and 1 hour blocks, making lessons the perfect length for each student based on their age, experience and attention span. All lessons are customized with personalized lesson plans according to each child's skill level and area of interest. Our teaching plan combines all the fundamentals of music, and our instructors always end each lesson with something fun such as a favorite song or riff.
Finding the Best Music Teacher in Sherman Oaks
Since selecting a music teacher is the most important decision you will make, Music School To Go makes that decision easy with the best highly qualified, passionate and dynamic music teachers in Sherman Oaks. Now, finding the right music teacher has never been easier. Music School To Go teachers are dedicated to providing you with the best home music lesson experience, learning at your own pace, and personalized to your goals and interests so you can start making music right away.
Music Lessons for Kids and Adults at Home in Sherman Oaks
When you sign up for music lessons, one of our highly skilled teachers will come to you. We'll custom match you with the right teacher within 5 days who suits you best and personalize instruction to your age and learning style. At Music School To Go, your teacher will be friendly, patient, professional, and FUN! We even offer an exclusive Compatibility Guarantee – if, for any reason, you are ever unsatisfied with your teacher, we will transfer you to someone who will fit your specific needs.
Beginners to Advanced -- Adults are Welcome Too!
Private music lessons for children are a great way to start the musical journey and it's never too late to get started with private lessons as an adult. Getting started with music lessons might feel like a challenge, but we make the experience an easy and rewarding one. As a beginner, you need an experienced teacher who will take the time to listen and have the patience to guide you every step of the way. Staying motivated should never be a problem with the right teacher, and maintaining progress while tackling technique and repertoire in your lessons is something we've mastered.
Month-to-Month Lessons
No registration fees, no long-term contracts, no hidden fees. All of our students are on a month-to-month basis and we will not commit you to a long-term contract. You can start lessons at any time and discontinue lessons anytime.
When you choose Music School To Go, you'll enjoy the advantage and convenience of private music lessons at home at your own pace and tailored specifically to you. It's your music, on your schedule, with the best teachers!
It's easy to take the next step!
We have been serving families in and near Sherman Oaks, CA and surrounding areas since 2004 and hope that your family will be the next to join our Music School To Go family!
Lessons can begin at any time!
Want to schedule a lesson?  Music School To Go offers instruction in piano and keyboard, guitar, voice, ukulele, violin, viola, drums and percussion, bass, flute, clarinet and saxophone.
Music School To Go provides quality music lessons in Sherman Oaks, CA and surrounding areas on the following instruments: Electric guitar, acoustic guitar, voice and singing, piano and keyboard, violin, viola, ukulele, bass, flute, clarinet and saxophone to children of all ages.