Conejo Valley Private Music Lessons
In Your Home With the Best Teachers
Welcome to Music School To Go. We are a Conejo Valley based music school offering the highest quality in-home and live online music lessons in piano, guitar, voice, singing, violin, viola, ukulele and drums for kids and adults in the comfort and privacy of your home. At Music School To Go, we believe that music should be fun and engaging and we do everything to make sure it stays that way. By offering private music lessons, we feel it is the most effective way to enhance a student's learning experience.
In-Home and Live Online Music Lessons
We offer fun and interactive in-home and live online music lessons using Zoom, Skype or Facetime on the following instruments: Piano/Keyboard, Guitar, Voice & Singing, Violin, Viola, Drums, Ukulele and more.
Select the city where you desire lessons: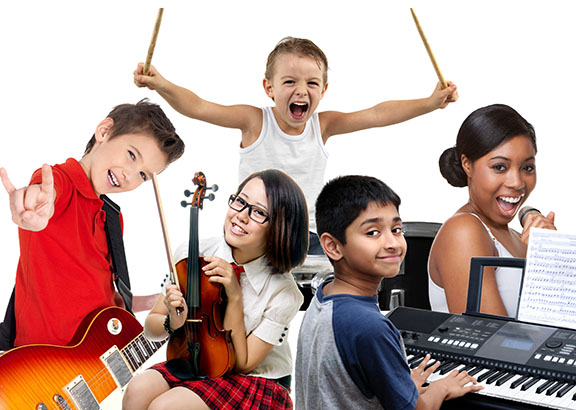 In-Home One-on-One Music Lessons
Students in private lessons are able to learn the type of music they personally are most interested in. Our teachers can focus 100% of their attention on that one student to ensure that hand positioning, posture or the understanding of a particular concept are correct. If a student has a particular difficulty in one area, the teacher can work on it without hampering the progress of a class of students and, alternately, if a student is excelling in one area, the teacher can move on. We offer 30 minute, 45 minute, and 1 hour lessons.
We Teach All Styles, Beginners and Adults Welcome!
Guitar - Acoustic, Electric and Bass (Ages 8 and up): Our guitar and bass teachers teach rock, blues, metal, country and classical styles. Students may learn on either acoustic or electric guitar. Beginner students can expect to work on chords, simple songs and melodies, sight reading and theory. We balance musicianship and fun by making sure that each lesson you are challenged with a new technical concept or theory, but always end with something fun, such as your favorite riff or song.
Ukulele Lessons (Ages 5 and up): Ukulele lessons are very similar to guitar lessons, however, we are able to start children as young as age 5 because a ukulele is a smaller instrument and therefore easier for a younger child to manage.
Piano/Keyboard Lessons (Ages 5 and up) Our piano teachers teach a variety of styles from classical to popular music. Whether you want to learn Beethoven or Alicia Keys, our teachers are happy to help you become the pianist you want to be. Our piano teachers will show you the fundamentals of sight reading, technique and theory, but they will also incorporate your favorite songs into your lessons. You do not have to have a piano at home to take lessons. A simple electronic keyboard will suffice in the beginning.
Voice Lessons (Ages 8 and up): Our voice teachers primarily focus on popular music. If you have always wanted to be a better rock, pop, country, jazz, gospel or R&B singer, then we have the right voice teacher for you. Voice students spend time each week doing physical exercises to improve their vocal range, ear training, breath control, vibrato, tone production, enunciation and more. All voice students set goals with their teacher to work on developing their own unique voice or, if they prefer, sounding like their favorite recording artists.
Violin and Viola Lessons (Violin for ages 5 and up, Viola for ages 10 and up) Music School To Go offers violin and viola lessons for individual study for the beginning, intermediate and advanced string player. As you progress through technical exercises and repertoire, you will learn to play with accurate pitch, tonal sensitivity, improved finger dexterity, and musical artistry. Topics covered will include tuning and ear sensitivity, hand positions, bowing and finger technique, posture, and building a repertoire of classical and contemporary music. Lessons may be customized to fit you or your child's personal tastes in music, needs and musical goals.
Drum Lessons (Ages 7 and up): We offer the option of learning drums on an acoustic or electronic drum set. Our drum instructors teach rock, metal, jazz, funk, blues and many other styles. Drum language can be challenging and our instructors will challenge any drummer with a wide variety of technical exercises designed to improve your speed and comfort. You do not have to purchase a drum kit to take lessons. Beginning students can learn with a drum pad and sticks.
Flute, Clarinet and Saxophone Lessons (Ages 10 and up) Clarinet, Saxophone and Flute have become very popular in today's classical, folk and rock music genres. Saxophone is also very popular in jazz music. Topics covered in our lessons are tuning, playing position, musical symbols, notes in first position, chords, tabs, rhythms, fingering and picking. Our teachers teach rock, blues, metal, country, classical, and may incorporate additional curriculum and repertoire to fit you or your child's personal musical tastes, needs and goals. Your teacher will customize a course of study for you and provide you with supplemental learning materials.
Play your way to excellence under the guidance of our experienced instructors. From piano lessons and guitar lessons to voice lessons and more, learn the gift of music with Music School To Go!
Frequently Asked Questions
What do you learn in your Music Lessons?
That question is often asked by prospective students. The answer is: "You learn what you need and want to learn." Our teachers make it a priority to get to know YOU on a personal level and to become familiar with your musical needs and goals. We don't treat every student the same in terms of what and how we teach. A seven year-old having their first guitar lesson will have very different needs than a fifty-seven year-old taking up piano for the second time after having had lessons as a child.
What styles of music do you teach?
We teach all styles from Rock, Pop, R&B, Jazz, Country, Blues and Classical.
Are your instructors qualified?
All of our teachers are college educated and have many years of experience teaching music to children and adults of all ages. They also have a strong desire to teach and pass on the love of music to others. Many of our instructors also perform on a regular basis, in churches or with their bands, both locally and occasionally throughout the country. In addition to their teaching credentials, our teachers have warm personalities, are extremely friendly and strive to get to know each student and their parents on a personal level.
Lessons can begin at any time!
Want to schedule a lesson?  Music School To Go offers instruction in piano and keyboard, guitar, voice, violin, viola, ukulele,  drums and percussion, flute, clarinet and saxophone.