Guitar Lessons in Woodland Hills
With the Best Teachers in Your Home
Music School To Go offers fun and engaging private guitar lessons in Woodland Hills for children and adults in the comfort and privacy of your home or live online virtual lessons. Music School To Go delivers high caliber guitar lessons with experienced teachers who love music and love to teach. Guitar lessons for beginners are our specialty. We teach acoustic guitar, electric guitar, bass guitar and ukulele lessons in Woodland Hills. Children and teens enjoy electric guitar lessons. You will learn to play guitar with our outstanding team of highly experienced and patient teachers. Our teachers make learning to play the guitar fun and easy.
Finding the Right Guitar Lessons in Woodland Hills
All guitar lessons are not the same. Finding the right school is the first step. The main reason to learn guitar with us is our outstanding teachers. We pride ourselves in having the most experienced and talented music teachers, all of whom are professionally trained educators with university degrees in their instruments. Our teachers have professional performance experience as well. Our guitar teachers are dedicated to learning about your personal musical goals and helping you to achieve them. With our fantastic team of the absolute best guitar teachers, we are confident that we have the right teacher to meet your music lesson needs. In addition to their teaching credentials, your teacher will be friendly, patient, professional and FUN! Meet our Teachers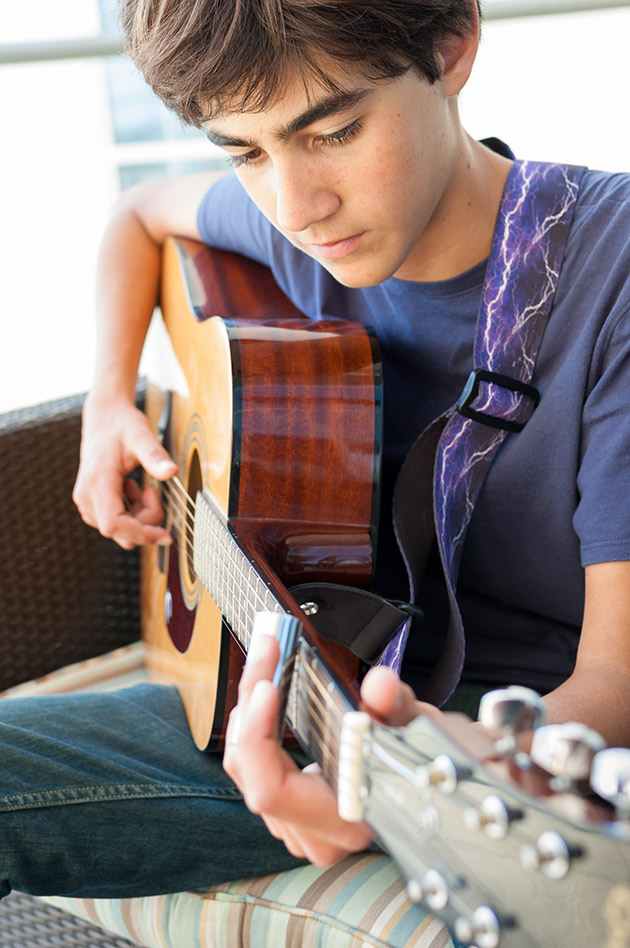 Acoustic and Electric Guitar Lessons for Children
We specialize in guitar lessons for children and teens. We offer both acoustic and electric guitar lessons. Children and teens enjoy learning electric guitar. Our electric guitar lessons for kids are fun and inspiring. Help your child gain a lifelong love and understanding of music and give her or him the opportunity to experience the success that comes with committed practice.
"I believe every guitar player inherently has something unique about their playing. They just have to identify what makes them different and develop it."
- Jimmy Page -
We offer 30, 45-minute and 60 minute lessons Monday through Friday with gentle, patient, and enthusiastic teachers who enjoy working with children and teenagers.
Fun lessons! In years of helping young people to play guitar, the teachers at Music School To Go have found that motivation is the most important element of success. This means we teach favorite kids songs to younger children, and popular pop and rock songs to teenagers, in a professional but enjoyable atmosphere.
Focused lessons with clear and achievable goals supported by short and precise assignments for practice. A habit of regular practice is encouraged in clear and achievable steps.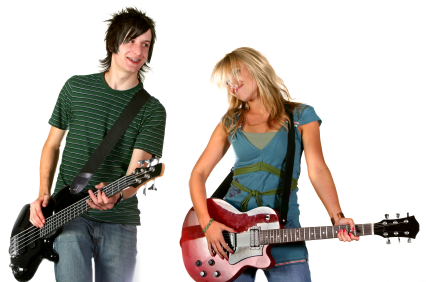 Guitar Lessons for Beginners in Woodland Hills
Beginner guitar lessons is our specialty. Our Guitar Lessons are excellent for kids, for teens and for adults - easy and fun for absolute beginners to shredders who melt strings. What will you learn in your beginner guitar lessons? You will learn fundamentals of good guitar playing, basic chords, strums, simple songs and achieve a good foundation on which to build further study. We balance musicianship and fun by making sure that at each lesson you are challenged with a new technical concept, but always end with something fun such as your favorite song or riff.
Guitar Lessons At Your Home in Woodland Hills
When you choose Music School To Go, you'll enjoy the advantage and convenience of guitar lessons in your home. You will learn to play guitar at your own pace and tailored specifically to you. Whether you sign up for beginner guitar lessons or are an advanced player, our teachers are ready to help you learn. Not only is this a convenient option for busy schedules, it allows you to learn your instrument in the familiar, comfortable space of your own home. It's your music, on your schedule, with the best teachers in Woodland Hills!
Month-to-Month Lesson Plans
No registration fees, no long-term commitments, no hidden fees. You are only committed to a month at a time. You can begin lessons at any time, and discontinue lessons at any time.
It's easy to take the next step!
We have been serving families in Woodland Hills, CA since 2004. It is our hope your family is the next to join our Music School To Go family!
You may also be interested in: Piano Lessons Woodland Hills | Voice Lessons Woodland Hills | Violin Lessons Woodland Hills | Drum Lessons Woodland Hills
Lessons can begin at any time.
Want to schedule a lesson?  Music School To Go offers instruction in piano, guitar, voice, violin, ukulele and drums for children and adults of all ages.