Guitar Lessons in Encino, CA
With the Best Teachers in Your Home
Music School To Go provides high quality private guitar lessons in Encino for children, teens and adults in the comfort and privacy of your home. Guitar lessons for beginners is our specialty. We teach acoustic, electric, bass guitar and ukulele lessons. Our highly qualified guitar teachers are ready to help you learn. Our guitar lessons are easy and fun for absolute beginners to shredders who melt strings. When you choose Music School To Go, you'll enjoy the advantage and convenience of in-home private guitar lessons at your own pace and tailored specifically to you. It's your music, on your schedule, with the best teachers!
Finding the Right Guitar Teacher in Encino, CA
The main reason to learn guitar with us is our expert teachers. At Music School To Go we have a fantastic team of teachers working together to serve our community. Our instructors are university trained, highly qualified and experienced in teaching children and adults of all ages. Music School To Go instructors are carefully selected and we believe we have assembled the very best music teachers our community has to offer. Some of our instructors have advanced degrees in music and others have extensive experience performing and teaching music. Additionally, our instructors are handpicked and undergo a rigorous hiring process where we evaluate their character, ability, background, and experience. Simply put, we hire only the best!
Acoustic and Electric Guitar Lessons in Encino
We specialize in guitar lessons for kids and offer both acoustic and electric guitar lessons. We also teach bass guitar and ukulele. Children and teens enjoy learning electric guitar. Our electric guitar lessons for kids are fun and inspiring. Help your child gain a lifelong love and understanding of music and give her or him the opportunity to experience the success that comes with committed practice.
Guitar Lessons for Kids, Teens and Adults in Encino
Jam and play your favorite tunes to build skills and ability. Play the music you like at your own pace, practicing guitar chords and strumming techniques and most importantly, confidence. Let our guitar teachers help you become the guitarist you want to be.
Our guitar teachers teach a variety of styles from rock, pop, classical, soul, blues, jazz, country and much more. It doesn't matter what style music you play. You can learn how to sound great playing the music you love.
Guitar Lessons in Encino for Beginners
Guitar lessons for beginners is our specialty. All of our guitar lessons are designed for beginner musicians, but they don't stay "beginners" long. At Music School To Go, your child will learn: guitar playing, note reading, theory, harmony, rhythm, ear training, composition and more. Your child will be taught according to the age they begin and skill level.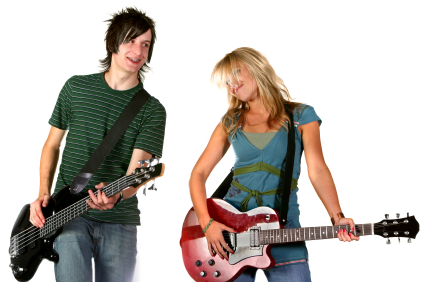 In-Home Guitar Lessons in Encino
When you choose in-home lessons, you're choosing the most efficient and convenient way to include music in your child's life. All Music School To Go teachers travel to give you in-home private music lessons. No need to drive to and from a school or studio and wait for lessons to end. We bring you the best experience right to your door. Not only is this a convenient option for busy schedules, it allows you to learn your instrument in the comfortable space of your own home. You'll love the convenience of lessons in your home!
Month-to-Month Lessons Plans
No registration fees, no long-term commitments, no hidden fees. You are only committed to a month at a time. Lessons can begin at any time and you may discontinue at any time.
If you are ready to learn, we have a friendly and highly skilled guitar teacher in Encino ready to get you started.
It's easy to take the next step!
We have been serving families in Encino, CA since 2004 and hope that your family is the next to join our Music School To Go family!
You may also be interested in: Piano Lessons Encino | Voice Lessons Encino | Violin Lessons Encino | Drum Lessons Encino
Lessons can begin at any time.
Want to schedule a lesson?  Music School To Go offers instruction in piano, guitar, voice, violin, ukulele and drums for children and adults of all ages.